Accessing Higher Education through Open and Distance Learning by People with Disabilities in Nigeria
Keywords:
Access, Higher Education, Disability, Open and Distance Education
Abstract
Disability means any form of physical or mental condition that restricts a person's way of life. It ranges from visual impairments, lameness to complex intellectual or mental health challenges. Research reveals that about 15% of the world's population suffer from various forms of disabilities. The number is expected to keep increasing because of the fact of continuing conflicts, terrorism, hunger and aging populations, . People with disabilities are usually discriminated against in virtually everything, including education and employment. This tends to lead to a vicious cycle of more poverty, further exclusion and discrimination. However, the plight of people with disability was captured by the United Nations and provisions were made for them in the Sustainable Development Goals (SDGs). SDG 4 stipulates for the provision of inclusive, equitable and quality education for all by 2030, as well as for lifelong learning. Two of the targets of SDG 4 include the elimination of discrimination against people with disabilities and the provision of infrastructure and materials for improved access to education for all. Since education is a sure way of overcoming poverty and discrimination, the question becomes how to include more people with disabilities into institutions of higher learning? This paper therefore reviewed ways of making Open and Distance Education (ODE) more accessible to People with Disabilities (PWD). PWDs have problems with enrolment, physical environment, support services, finances, among others. Recommendations were made as to how to ameliorate these problems and have more people with disabilities accessing and succeeding in Open and Distance Education.
References
Abaa, A. E & Ihuoma, C. P. (2019). Dimensions of E-Learning Tools as Correlates of Psychological Well-Being of Teachers and The Attainment of Sustainable Development Goals. NOUN Journal of Education. Vol, 6 pp 132 – 142.
Aleh, A. M. and Idom, A. M. (2016). The Challenges of Schooling with Disabilities in the University of Jos, Nigeria. Fulafia Journal of Social Sciences (Maiden Edition.
Chataika, T. (2007). Inclusion of disabled students in higher education in Zimbabwe, From idealism to Reality, A social Ecosystem Perspective PHD Thesis.
Choruwa, T. (2006). The Forgotten Tribe People with Disabilities in Zimbabwe: London. Progression.
Dada, O. C. and Eni-Olorunda, T. (2014) Experienced Barriers by Persons with Special Needs on Access to Higher Institutions, International Journal of Education Learning and Development
.2, (3), .44-59.
Ihuoma, C. P. (2015) Problems and Prospects of Open and Distance Education: The National Open University Of Nigeria Example. Journal Of Agricultural and Science Education 1 (2). 127-135.
Ihuoma C. P. (2017a). Translating Words to Deeds: Achieving Gender Equality in the Nigerian Educational Sector through Building a Safer World. In Akinsola, M. K., Ojokheta, K. O. & Ademokoya, J. A. (Eds.) Building A Safer World Through Education. 542-560.
Ihuoma, C. P. (2017b) Promoting Guidance and Counselling in Schools for Sustainable National Development in Nigeria. The Review of Education Journal of the Institute of Education, University of Nigeria, Nsukka, 28 (1) 332-345.
Ihuoma, C. P. (2019). Contemporary Discourse on the 2030 Agenda for Sustainable Development: Challenges and Policy Options for Girls' Education and Women Empowerment In Nigeria. In Ademokoya, J. A., Aderinoye, R. A. & Gbadamosi, T. V. (Eds.) Africa and Education 2030 Agenda. Ibadan, Gab Education Printers. 763 – 777.
Kanwar, A. & Cheng, R. Z. (2017). Making Open and Distance Learning Inclusive: The Role of Technology. Keynote address presented at the 6th International Conference on Information and Communication Technology and Accessibility Muscat, Sultanate of Oman.
Kaputa, T.M. (2013). Making Open and Distance Learning Inclusive: The Zimbabwe Open University's Experience with People with Disabilities Greener Journal of Educational Research ISSN: 2276-7789 Vol. 2 (3), . 392-401.
Kitula, M., Minanago, C. & Mntambo, B. (2012). Special and Vulnerable Groups on Access, Success and Equity on Open and Distance Education in Tanzania. The Case of the Open University of Tanzania. Huria: Journal of the Open University of Tanzania Vol 13 (2) 432 – 445.
Komba, W.L. (2009). Increasing Education Access through Open and Distance Learning in Tanzania: A Critical Review of Approaches and Practices. University of Dar es Salaam, Tanzania International Journal of Education and Development using Information and Communication Technology (IJEDICT), Vol. 5, Issue 5, .8-21.
Lagoke, B. A., Komolafe, M. D., Ige, N. A. & Oladejo, M. A. (2010). Disability Status and Academic Performance in a Nigerian University: Instructional Implications for Inclusive Distance Education Practice. European Journal of Social Sciences Vol. 17 (3) 303 – 315.
Mapuranga, B & Nyenya, T. (2014). Open and Distance Learning Accessibility to Learners with Disabilities. International Journal of Humanities Social Sciences and Education (IJHSSE) Vol 1 (4) 1 – 12.
Massengale, L. & Vasquez III, E. (2016). Assessing Accessibility: How Accessible are Online Courses for Students with Disabilities? Journal of the Scholarship of Teaching and Learning. Vol 16 (1) 69 – 79.
Moisey, S. D. (2004) Students with Disabilities in Distance Education: Characteristics, Course Enrollment and Completion, and Support Services Journal of Distance Education 19, (1) 73-91.
Obiozor, W., Onu, V & Ugwoegbu, I. (2010). Academic and Social Challenges Facing Students with Developmental and Learning Disabilities in Higher Institutions: Implications to African Colleges and Universities. African Journal of Teacher Education. Vol. 1 (1) 126 – 140.
Paist, E. (1995). Serving students with disabilities in distance education programs. American Journal of Distance Education, 9(1), 61-70.
Sachs, D & Schreuer, N, (2011). Inclusion of students with disabilities in Higher education: Performance and participation in student's experirnces. Diability Studies Quarterly Vol. 31 (2) http:///dx.doi.org/10.18061/dsq.v31i2.1593.
Salihu, M. J. and Razak, N. A. (2020) Global Movement of Inclusive Higher Education Policies: The Trends and Practices in the Nigerian Higher Education System. Asia Proceedings of Social Sciences 6(3) 254-260.
The Convention on the rights of persons with disabilities, UN,, 2006
Valverde, G, Aborn ,L, Broutgam, B, Johnson, D, Vasauez, L and Vigallan, S. (2011). Distance Education Accessibility Guidelines, California Community Colleges.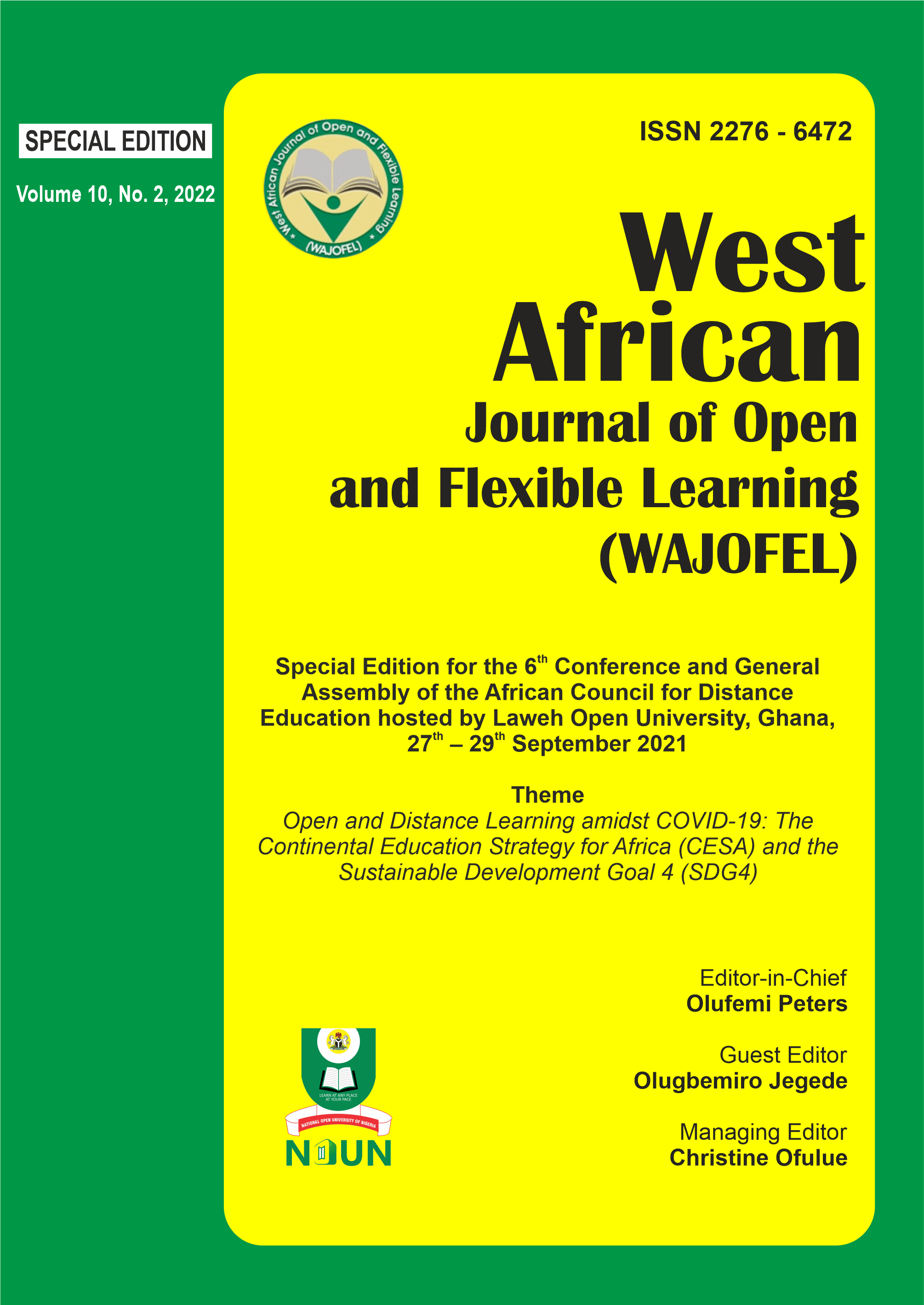 Downloads
How to Cite
Ihuoma, C. P. ., & Abaa, A. E. (2022). Accessing Higher Education through Open and Distance Learning by People with Disabilities in Nigeria. West African Journal of Open and Flexible Learning, 10(2), 123–142. Retrieved from https://wajofel.org/index.php/wajofel/article/view/100
Section
Research Articles
License
Copyright (c) 2022 West African Journal of Open and Flexible Learning
This work is licensed under a Creative Commons Attribution-ShareAlike 4.0 International License.