Perceived Quality of Open and Distance Learning Resources and Effective Learner Support Services among Dual-mode Universities in Ghana
Keywords:
Open and Distance Learning, Learner Support Services, Quality Assurance
Abstract
Open and Distance Learning (ODL) is a new phenomenon that is being steadily embraced in higher education space in Africa, particularly in Ghana. It is an innovation to the traditional bricks and mortar learning system in institutions of higher education and, if such novelty is not carefully managed and deployed, its essence may be misplaced. Administrators, instructors and learners are important collaborators in this project. Unfortunately, those collaborators are also new to ODL operations and their learning management systems. A major concern for learners remains effective learner support services while empowerment, skills development and infrastructure for teaching and learning are important for administrators and instructors. The paper explored the perceived quality of ODL resources and learner support services across Ghanaian ODL universities from students' perspective. For this study, a sample of 503 respondents were randomly selected from five (5) ODL universities and quantitatively analyzed.
The results revealed that instructors' support was found to be unsatisfactory whilst the atmosphere of the learning center is considered non-conductive. Distance learning universities are recommended to invest more in technology-driven services that would enhance quality systems, and instructors support while attending to the needs of the learners quickly.
References
Aborode, A., Anifowoshe, O., Ayodele, T. I., Iretiayo, A. R., & David,
O. O. (2020). Impact of COVID-19 on education in sub- Saharan Africa.
Al-Araibi, A. A. M., Naz'ri Bin Mahrin, M., & Yusoff, R. C. M. (2019). Technological aspect factors of ELearning readiness in higher education institutions: Delphi technique. Education and Information Technologies, 24(1), 567–590
Al-Busaidi, K. A., & Al-Shihi, H. (2012). Key factors to instructors' satisfaction of learning management systems in blended learning. Journal of Computing in Higher Education, 24(1), 18-39.
Almaiah, M. A., Al-Khasawneh, A., & Althunibat, A. (2020). Exploring the critical challenges and factors influencing the E- learning system usage during the COVID-19 pandemic. Education and information technologies, 25(6), 5261-5280.
Almaiah, M. A., Jalil, M. A., & Man, M. (2016a). Extending the TAM to examine the effects of quality features on mobile learning acceptance. Journal of Computers in Education, 3(4), 453–485
Aung, T. N. and Khaing, S. S. (2015, August). Challenges of implementing e-learning in developing countries: A review. International Conference on Genetic and Evolutionary Computing 405- 411.
Azevedo, J. P., Hasan, A., Goldemberg, D., Geven, K., & Iqbal, S. A. (2021). Simulating the potential impacts of COVID-19 school closures on schooling and learning outcomes: A set of global estimates. The World Bank Research Observer, 36(1), 1-40
Azzi-Huck & Shmis, T. (2020). Managing the impact of COVID-19 on education systems around the world: How countries are preparing, coping, and planning for recovery. World Bank Blogs. https://blogs.worldbank.org/education/managing-
impact-covid-19-education-systems-around-world- how- countries-are-preparing
Bawa, P. (2016). Retention in online courses: Exploring issues and solutions—A literature review. Sage Open, 6(1), 2158244015621777.
Catalano, A.J. (2018). Measurements in Distance Education: A Compendium of Instruments, Scales, and Measures for Evaluating Online Learning (1st ed.). Routledge. https://doi.org/10.4324/9781315229447
Chen, H. R., & Tseng, H. F. (2012). Factors that influence acceptance of web-based e-learning systems for the in-service education of junior high school teachers in Taiwan. Evaluation and Program Planning, 35(3), 398–406.
Cooper, D. R., & Schindler, P. S. (2003). Research methods. Boston, MA: Irwin.
Creswell, J. W. (2013). Research Design: Qualitative, quantitative and mixed methods approaches, (4thed.). Sage Publications.
DePoy, E., Hartman, A., & Haslett, D. (1999). Critical action research: A model of social work knowing. Social Work, 44(6), 560-569.
Dobre, I. (2015). Learning Management Systems for higher education- an overview of available options for Higher Education Organizations. Procedia-social and behavioral sciences, 180, 313-320.
Eltahir, M. E. (2019). E-learning in developing countries: Is it a panacea? A case study of Sudan. IEEE Access, 7, 97784– 97792.
Ghilay, Y. (2017). Online learning in higher education. Nova Science Publishers-New-York.
Gunawan, G., Suranti, N. M. Y., & Fathoroni, F. (2020). Variations of models and learning platforms for prospective teachers during the COVID-19 pandemic period. Indonesian Journal of Teacher Education, 1(2), 61-70.
Hair, J. F., Harrison, D., & Risher, J. J. (2018). Marketing research in the 21st century: Opportunities and challenges. Brazilian Journal of Marketing- Special Issue, 17.
Johnson, N., Veletsianos, G., & Seaman, J. (2020). US Faculty and Administrators' Experiences and Approaches in the Early Weeks of the COVID-19 Pandemic. Online Learning, 24(2), 6- 21.
Kenan, T., Pislaru, C., Othman, A., & Elzawi, A. (2013). The social impact and cultural issues affecting the eLearning performance in Libyan higher education institutes. International Journal of Information Technology & Computer Science, 12(1), 50–56.
Mahaye, N. E. (2020). The impact of COVID-19 pandemic on education: navigating forward the pedagogy of blended learning. Research online.
Malik, S. K. (2015). Strategies for maintaining quality in distance higher education. Turkish Online Journal of Distance Education, 16(1), 238-248.
Mtebe, J. S. (2019). Examining user experience of eLearning systems implemented in two universities in Tanzania. Interactive Technology and Smart Education.
Mulhanga, M. M., & Lima, S. R. (2017, December). Podcast as e- learning enabler for developing countries: Current initiatives, challenges and trends. 9th international conference on education technology and computers (pp. 126-130).
Nsamba, A., & Makoe, M. (2017). Evaluating quality of students' support services in open distance learning. Turkish Online Journal of Distance Education, 18(4), 91-103.
Raphael, C., & Mtebe, J. (2016). Instructor support services: An inevitable critical success factor in blended learning in higher education in Tanzania. International Journal of Education and Development using ICT, 12(2). Page No.
Tarus, J. K., Gichoya, D., & Muumbo, A. (2015). Challenges of implementing e-learning in Kenya: A case of Kenyan public universities. The International Review of Research in Open and Distance Learning, 16(1), 120–141.
Thapliyal, U. (2014). Perceived quality dimensions in distance education: Excerpts from student experiences. Turkish Online Journal of Distance Education, 15(3), 60-67.
Walker, S.L., & Fraser, B.J. (2005). Development and Validation of an Instrument for Assessing Distance Education Learning Environments in Higher Education: The Distance Education Learning Environments Survey (DELES). Learning Environ Res 8, 289–308 https://doi.org/10.1007/s10984-005-1568-3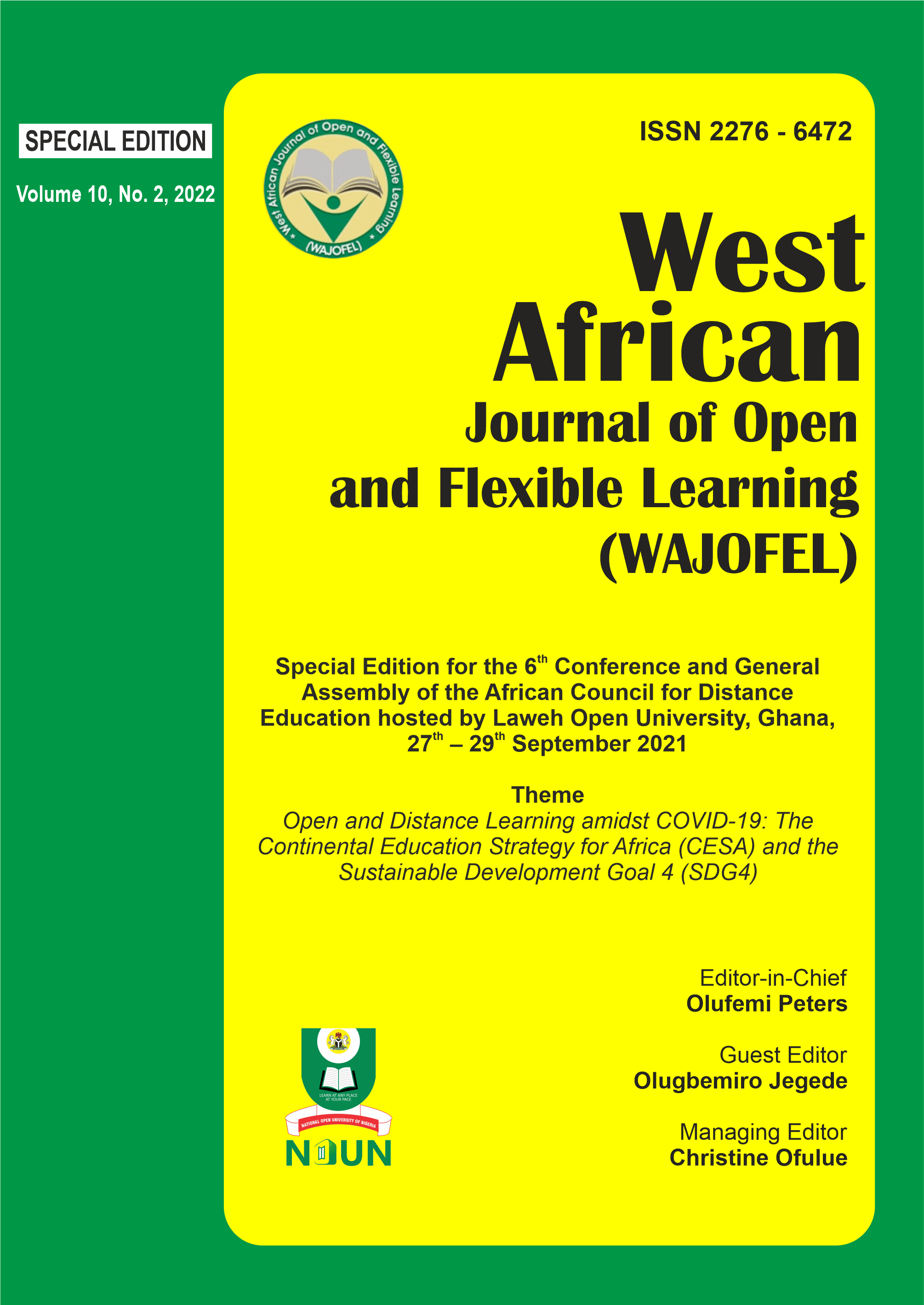 Downloads
How to Cite
Abdulai, M. ., Awaah, F. ., Osei, M. ., & Yayviah, E. . (2022). Perceived Quality of Open and Distance Learning Resources and Effective Learner Support Services among Dual-mode Universities in Ghana. West African Journal of Open and Flexible Learning, 10(2), 183–198. Retrieved from https://wajofel.org/index.php/wajofel/article/view/103
Section
Research Articles
License
Copyright (c) 2022 West African Journal of Open and Flexible Learning
This work is licensed under a Creative Commons Attribution-ShareAlike 4.0 International License.